There are many components that make up a vape pen. Each one plays an important role and affects your overall vaping experience. This guide discusses the different types of vape wires and will help you choose the right one for your ideal type of vape.
Whether you use a plug-in vape pen or you build your own vaping device, it is important to have a basic understanding of the different vape wires. The type of vape wire that you use will significantly affect your vaping experience. It can change the flavor, the ramp-up speed, and the type of vapor that you are able to produce.
Additionally, knowing what the different types of vape wires are and when they should be used is important when it comes to safety.
Types Of Vape Wires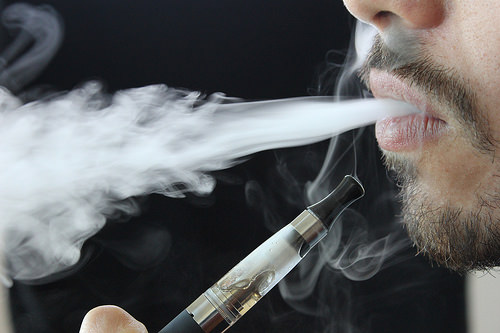 Image via Flickr by Lindsay-Fox
There are five different types of vape wires available. These include kanthal, nichrome, Nickel, stainless steel, and titanium. Let's dig in and evaluate the advantages and disadvantages of each type.
Kanthal
Kanthal wire is one of the most popular types of vape wire that is used both by vape builders and vape retailers. People who began vaping before it really became popular probably remember a time when kanthal was the only type of vape wire that was used.
This type of wire is ideal when vaping in wattage mode. It is a straight-forward material and is easy to use, making it a great choice for those new to building or dripping coils. It holds its shape very well when re-wicking, meaning that it tends to last longer. The material itself is also very affordable and can be found at most vape shops.
Kanthal wires should not be used when temperature-control vaping. It also has a slower ramp-up time than when compared to other types of vape wires. One of the biggest complaints of Kanthal wires is that it does not give you as strong of a flavor as the other types of wires do. This is not a big deal to some, especially if you choose a flavorful e-juice.
Pros
Great for wattage mode
Easy to work with
Tends to last longer than other types of vape wire
Affordable
Easy to find
Cons
Not available for temperature-control vaping
Slower ramp-up time
Less flavor
Nichrome
Nichrome is another great choice for wattage vaping that is made up of nickel and chromium materials. You can purchase Nichrome vape wires in different grades. The ni80, which means 80% nickel tends to be the most common.
Nichrome has a lower resistance than other wattage-approved wires, meaning that it gives you a faster ramp-up time. Some believe this also results in a better taste. In fact, if a fast ramp-up time is the most important thing to you, then you would definitely want to choose Nichrome wires. Nichrome also tends to hold up well when re-wicking.
Although Nichrome has many advantages, it is not as elastic as the other wire materials. If you are new to building vape coils, you might find it more difficult to work with. It is important to note that some Nichrome wires contain traces of nickel. Anyone with nickel allergies should avoid all Nichrome materials. Nichrome is not always easy to find at local vape shops, but there are many online retailers that regularly carry it.
Pros
Faster ramp-up time
More flavor
Cons
Not great for beginners
Potential nickel allergy
More difficult to find
Nickel
Nickel vape wire generally consists of pure nickel material and is used when temperature-control vaping.  It is very affordable and readily available at most vape shops. It has zero resistance which means an extremely fast ramp-up time. It also produces a favorable flavor.
This material is used only in temperature control vaping and should absolutely, at all costs, not be used with wattage vaping. This is because if it overheats, which it is prone to do, it can actually melt. In addition to the dangers of melting, it can produce toxic levels of graphite.
Nickel may get a bad reputation because of this, but as long as you are using it with the correct mode and at the correct temperature, it is really not that dangerous. When used in temperature-control vaping, it is actually one of the better options.
Because nickel vape wires are made of pure nickel materials, they should be avoided by anyone with such allergies. Although nickel is one of the most popular choices for temperature control vaping, it is not always the easiest material to work with.
Pros
Affordable
Readily available at most vape shops
Zero resistant/ Fast ramp-up time
Favorable flavor
Cons
Not good for wattage vaping
Potential nickel allergy
Difficult to work with
Stainless Steel
Stainless steel is one of the most durable vaping wires, but still one of the least popular. It can be used with both wattage and temperature control vaping, making it a great choice for those that prefer to switch between modes. You will likely notice many options available when shopping for stainless steel vape wires and they are sold in different grades. In general, stainless steel vape wires are easy to work with and offer a relatively fast ramp-up time.
Avoid stainless steel vape wires with high wattages to prevent burning and inhalation of dangerous chemicals. Keep in mind that some stainless steel vape wires also contain nickel materials. Although this amount tends to be less than what you will find in Nichrome, it is still best to avoid it if you have allergies. You can also check the ingredients of the grade that you are using.
You can readily find stainless steel vape wires at most vape stores. Some vapers swear by stainless steel, stating that it gives them the purest and best-tasting flavor possible. But keep in mind that when it comes to high-quality, you are also going to pay a higher price. While you might pay more when you do buy them, stainless steel wires do tend to last longer meaning you will not have to buy them as often.
Pros
Very durable
Comes in different grades
Easy to work with
Fast ramp-up time
Readily available
Great flavor
Cons
Not ideal for high wattages
Possible nickel allergy
More expensive
Titanium
Titanium is another popular wire option.  Titanium should only be used with temperature-controlled vaping. It is made up entirely of pure titanium which some vapers are not comfortable with. Titanium is known to release a dangerous chemical when heated to a specific degree.
Titanium vape wires are easy to work with and tend to hold their shape very well. They also give off one of the best flavors. In addition to its fast ramp-up time, titanium also has a fast cool down time.
You can avoid the dangers of chemicals by always following the recommended temperature settings. Monitoring the temperature of your temperature-control vape pen will prevent the titanium wire from overheating and exposing you to the dangerous chemicals. Most vapers that use titanium will never have a problem with this and the same materials are found in many everyday items that you are already using.
If you do choose to work with titanium, monitoring your temperature is more important than ever. Because of the risk associated, titanium vape wires may not be the best choice for someone new.
Pros
Great choice for temperature-control
Easy to work with
Flavorful
Fast ramp-up/cool time
Cons
Overheating can be dangerous
Not ideal for beginners
Choosing the Right Wire Gauge
When considering vape wires, it is important to also consider the wire gauge. This is the thickness of the wire and this can also affect your vaping experience.
A larger gauge measurement translates to a thinner wire and vice versa. A wire gauge that is thicker in size has more resistance and will usually take longer to heat. This is known as the ramp-up time. If a fast ramp-up time is important to you, then you might consider a stainless steel vape wire. Nichrome is a close second in terms of ramp-up speed.
Additionally, some wires are harder to work with and if you are new to working with vape wires, you might want to avoid thinner gauges. It is important to keep in mind that the more vape wire that you use, you will also have a higher resistance, which means slower heat time. Wrapping coils can significantly slow down the time it takes to heat your coils.
What is the Best Vape Wire?
It is difficult to determine one type of vape wire that is the best. This really depends on your vaping preferences. It also depends on your vaping style. When choosing the best type of vape wire, it is a good idea to look at the different types of vaping.
Wattage Vaping
Most people prefer a wattage vaping experience because it is just easier. The wattage that you use will depend on the recommended power maximums of your vape pen. Staying within the recommended ranges tends to give you a flavorful and safe experience.
Vaping on the low end of the wattage recommendation gives you a cooler experience whereas choosing the higher end of the recommended range gives you a warmer experience. You will find your ideal wattage after trial and error. Keep in mind, you want to avoid going under the recommended range just as you want to avoid going over it.
Kanthal, Nichrome, and stainless steel are all great options for wattage vaping. Stainless steel, however, is best for vaping at a lower temperature.
Temperature-Control Vaping
Temperature-control vaping is also an option. This is another function that is available on most newer vape pens. Temperature-control vaping gives you a longer coil and battery life. The best vape wires for temperature-control vaping include titanium, stainless steel, and nickel.
It is crucial that you consider your type of vaping style before choosing the vaping wires. Otherwise, you risk damaging your battery and burning dangerous chemicals.
Avoiding Allergies When Choosing the Best Vape Wire
You will also want to keep allergies and safety in mind when choosing the best type of vape wires.
Nichrome, stainless steel, and nickel can have pure nickel materials within the wires and should be avoided by anyone with a nickel allergy.
It is also important to be aware of the symptoms of a nickel allergy. Symptoms might include:
Coughing
Rash or red bumps
Itching
Blisters
Dry patches of skin
Nickel allergies are not very common. However, if you develop any of these symptoms while using one of the nickel wires, it is best to stop use and seek medical advice.
What Kind of Wire Can You Use for Vaping?
There are five different types of wires that can be used for vaping. Each of these wires offers a unique experience. Of course, you will need more than the vape wire to build your ideal vape pen. Vape wires are just one of the important features. Additional items you will need include:
Small screwdriver
Wire cutters
Tweezers
A lighter or torch
Although many vaping enthusiasts choose to build their own coils for optimal flavor and experience, you do not necessarily have to do this. There are many vape coils out there that are sure to meet your vaping preferences. If you choose not to build your own, it is still a good idea to have a basic understanding of the different vape coils and how they affect the overall vaping experience.
Over time you are likely to find that as you expand your vaping experiences, you want to have more control over things like flavor, ramp-up time, and length of use. In order to achieve your ideal vape, you will need to build your own vape coils.
Fortunately, once you consider your vape preferences and learn about the different types of vape wires, you will find that you are able to build your ideal vape pen. You may need to try different types of wires until you come across the best one for you.
Like what you just read? Consider clicking one of the affiliate links in this post or using the Vape Deals page on the site to make your next purchase. You get the chance to buy products (at a discount) from great companies, and we get a small commission when you use these links — which helps keep the lights on and pay for more great content. It's a win-win!