One of the biggest advantages of vaping is the ability to do it on the go. Of course, to participate in vaping away from the home, you will need a portable vaporizer.
There are literally hundreds of portable vaporizers on the market today. Just a few of the biggest names include DaVinci, Firefly, Pax, Ghost, Crafty, and Mighty. With so many options, how can you choose the right one? This guide will introduce you to some of the most popular portable vaporizers, separated by their biggest advantage.
What Is a Portable Vaporizer?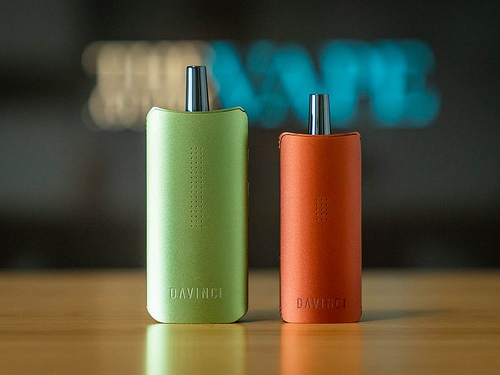 Image via Flickr by oron3
A vaporizer is a mechanism that is used to vaporize product. While some people refer to them as e-cigarettes, they are not only used by smokers. A vaporizer is made up of a tank, battery, heat sensor, atomizer, and a mouthpiece. They come in many types, sizes, and shapes. A portable vaporizer has the same components but is designed for on-the-go usage.
Because vaping does not have the same negative side effects of smoking, such as second-hand smoke, it is often more acceptable in public. Most vapers choose to carry their vaporizers around with them. A portable vaporizer is most often used with waxes or dry herbs. They can also be used with oils and e-juices. Always make sure the portable vaporizer that you purchase is intended for the product you are using to vape.
Years ago when vaping was first introduced, it was not really possible to achieve a high-quality vaping experience with a portable vaporizer. Today, however, as technology advances, some could even argue that a few of the best portable vaporizers do a better job than desktop vaporizers.
Portable vaporizers are usually divided into two categories. These categories describe the way in which the dry herbs or waxes are heated.
Conduction: In a conduction-heated vaporizer, the dry herbs are directly heated by the coil. This results in a faster ramp-up time. Unfortunately, there is the possibility of combustion when heating with conduction. Although the conduction-heating method is not used as often as it once was, newer techniques have made it safer. In order to prevent combustion, it is important to stay within the vaporizer's recommended heat range.
Convection: A convection-heated vaporizer heats only the active ingredients. While this may take longer to fully heat, you usually get a smoother vapor and a more flavorful experience. One of the biggest advantages of conduction heating is the ability to control the temperature. Temperature control also helps to avoid combustion. This is what makes vaping a safer option when compared to smoking because the harsh contents of the product are not combusted.
The differences between the heating styles will make a difference when choosing a vaporizer based on battery life and overall quality. It is also important to consider the type of product you are using when considering which heating style is ideal.
Best Overall Portable Vaporizer
There are a lot of portable vaporizers on the market, with new ones added all the time. In fact, you would probably get overwhelmed if you did not first narrow down your options. It is also not possible to say that one portable vaporizer is the best. Vapers are as diverse as the number of portable vaporizers that are available.
The best one for you will depend on a number of factors including your flavor preferences, how compact you want it to be, the price, and how often you vape. If you are new to vaping, it might take some time to narrow down these preferences. More experienced vapers would usually agree that the best overall portable vaporizer is one that is compact, discreet, and offers a convenient vaping experience.
A few of the best overall portable vaporizers to check out include:
Firefly 2 Dynamic Convection Vaporizer
The Firefly 2 Dynamic Convection Vaporizer tops the list for best overall portable vaporizer because of the high-quality materials it is made with. It is a great choice for beginners, comes in a lightweight material, and has mobile technologies that you can connect to. It also produces zero waste. It comes with two rechargeable batteries and a cleaning kit. The feature that makes the Firefly 2 so appealing is that it is ready to use in just three seconds. This portable vaporizer might come with a higher price tag, but its many advantages make it well worth it.
Dr. Dabber Switch Alternative Portable Vaporizer
If you are looking for the best flavor experience, the Dr. Dabber Switch Alternative portable vaporizer is a great option. This coil-free system has a long battery life, 30 different settings, and the ability to completely customize your vaping experience. It also comes with an extra mode, the Crystal Mode which gives you a unique heating and tasting experience. The Dr. Dabber also features a self-cleaning mode to burn off any extra residue after each vaping session.
If you can't choose just one important characteristic in your ideal vaporizer, then it might be a good idea to purchase one that offers an overall exceptional experience.
Best Compact Vaporizer
Portable vaporizers are designed to use on the go. However, you will find many variations in size between the available portable vaporizers. A compact vaporizer is a smaller product that allows you to bring it along with you whether you put it in your car or your pocket. Compact vaporizers also tend to be more discrete, which is important to some vapers.
Some worry that the reduction in size will also reduce the quality. Fortunately, this is not always the case and there are a few compact vaporizers that can definitely meet your vaping needs.
These are a few of the best compact vaporizers currently available on the market:
Aspire Breeze 2 All In One
The Aspire Breeze 2 All In One is a compact, single-fire, device that offers exceptional flavor, fast ramp-up time, and is great for on-the-go use. It is also affordable and can easily fit in your pocket. The Aspire Breeze 2 All In One Starter Kit is a great option for beginning vapers.
DaVinci IQ Dry Herb Vaporizer
The DaVinci IQ Dry Herb vaporizer is at the top of many best vaporizer lists. It produces a good flavor and density. In addition to its compact size, it also comes with a replaceable battery, extended warranty, and the ability to customize your experience through a mobile app. It is one of the most technologically-advanced portable vaporizers that you can buy right now. You can use Bluetooth to track your battery and even turn on your portable vaporizer. The IQ mouthpiece is also designed with 100 percent ceramic zirconia to give you a purer flavor.
Exxus Mini Vaporizer
The Exxus Mini vaporizer is about as discreet as you can get at just four inches tall. It will easily fit in your hand for the most convenient portable vaping experience. Even though it is one of the smaller portable vapors around, it still gives you the ability to control the temperature. The LED digital screen displays your current temperature. The Exxus Mini also heats in just 30 seconds.
Smaller in size does not always indicate a reduction in power. If a compact vaping experience is important to you, then you will want to consider one of these compact portable vaporizers.
Best Battery Life Vaporizer
Extended battery life may or may not be important to you. If you are the occasional vaper, then you will likely have plenty of time to recharge in between uses. However, if you are a frequent vaper or you are often on the go, longer battery life may be important to you.
Before choosing a portable vaporizer that is based on battery life, it is important to understand what uses power and how power is used. Convection vaporizers tend to use more power than combustion vaporizers do. Most newer portable vaporizers will come with a lithium-ion battery. This is the same battery that gives your smartphone life. Older portable vaporizers might come with a cheaper price tag but they often use regular rechargeable batteries. You will generally get a longer battery life out of a newer lithium-ion battery.
These are a few of the best portable vaporizers that have longer battery life:
AirVape X
The AirVape X is not only compact but also has extended battery life. It also comes with a USB plug-in charger so you can keep it fully charged in your vehicle. The customized auto shut-off feature also ensures that the battery is powered down when not in use. This all-in-one system heats up in just 20 seconds and uses a convection heating source.
Innokin Proton
The Innokin Proton is another great option with long battery life. It also has a full-color screen with an easy to use joystick control. If you are looking for an even longer battery life than what is included, you can also purchase dual high amperage batteries separately. This vaporizer comes with a micro USB port that allows you to charge the batteries. You can also purchase an Innokin Proton starter kit which comes with a PLEX sub-ohm tank and a Plexus coil.
If your favorite vaporizer does not come with a high-capacity battery, you can always purchase additional batteries to extend your vaping time. Keep them fully charged and then swap them out when needed. Additionally, some of the more advanced portable vaporizers allow you to use them while they are charging.
Keep in mind, portable vaporizers that come with advanced technologies are likely to have shorter battery life. If you are going to choose a portable vaporizer that has the ability to connect to your smartphone, then you will definitely want to purchase an additional battery or USB charger.
Best Portable Vaporizer Under $200
Fortunately, vaporizers come at all different price points. You do not necessarily need the most expensive one to enjoy your vaping experience. Additionally, if you are just starting out, you might opt for a more affordable one until you get a better idea of the features that are most important to you.
Keep in mind that most vapers do not stick with the vaporizer that they first choose. By purchasing one with a lower price tag, you have the ability to try out different ones.
Check out a few of the best portable vaporizers that are under the $200 price point:
DaVinci Miqro Dry Herb Vaporizer
The DaVinci Miqro vaporizer usually averages somewhere between $150-200. Although it is the entry level vaporizer in the DaVinci line, it offers many worthwhile features. You can choose from four different temperature settings as well as a setting that varies the temperature during your vaping experience.
Its durable materials are easy to disassemble, making cleaning a breeze. The Miqro is also smaller than other DaVinci vaporizers, which makes it a great compact option. This affordable portable vaporizer also has a larger battery and has a setting to conserve power.
PAX 3 Portable Vaporizer
The PAX 3 portable vaporizer can be purchased as a complete kit or just as the portable vaporizer. The kit will run you a little over $200 but you can purchase just the vaporizer for less. The Pax 3 easily fits in your pocket and is made with extremely lightweight materials. It comes with two different mouthpieces and heats up in just 22 seconds, a significant improvement over previous versions of the Pax portable vaporizer.
The PAX 3 has LED lights that notify you of your current heat, and the battery is long-lasting, running on average between eight and 10 vape sessions before needing to be charged. The PAX 3 also comes in unique colors and designs, perfect if you want to personalize your vaporizer.
As you can see, there are many choices when it comes to choosing your portable vaporizer. Consider the reasons why you want something that is portable and then choose the vaporizer that has the best features for that purpose. Whether you prefer a portable vaporizer that is compact in size, has a long battery life, or is affordable, the right portable vaporizer is out there for you.
Like what you just read? Consider clicking one of the affiliate links in this post or using the Vape Deals page on the site to make your next purchase. You get the chance to buy products (at a discount) from great companies, and we get a small commission when you use these links — which helps keep the lights on and pay for more great content. It's a win-win!