What Is A Vape Tank?
When defining a vape tank, the most common response is the part on a vaping device that holds the vape juice and atomizer, connected to a mod or an e-cig to produce vapor. A vape tank is actually made up of several components, including:
Chimney: This section of the vape tank connects the cap to the base and is the place where the vapor will be drawn through to the mouthpiece.
Tube: This part of the device will contain the vape juice.
Atomizer/Coil: The primary component of the vape tank is the atomizer coil which contains the heating element and the wicking. The coil resistance will have a lot to do with the amount of power that you draw from the battery and how much heat that you produce. Coils will often last between two and three weeks depending on use and can become burnt if used for too long.
Top cap: The top cap is the upper part of the assembly and can either be threaded into or permanently attached to a chimney. If you have a modern top-fill tank, you will usually have a cap that removes, rotates, or slides to provide you quick access for refilling.
Drip tip: The drip tip is the part of the tank that you will place your mouth on and draw to receive the vapor. These tips can be narrow or broad depending on the type of device you are using. They can also come in a variety of shapes and sizes, but all are designed to keep cool and be heat resistant even when vaping using a high-powered setting.
Tank base: The base is the area that will house the atomizer coil and hold the vape juice tube into place to prevent leakage. It is this spot where you will find the adjustable airflow valve.
510 connection: This part of the vape tank will connect the tank to the vaping device. A 510 is a universal connection, though some devices may come with different ones.
Tips for Choosing the Best Tank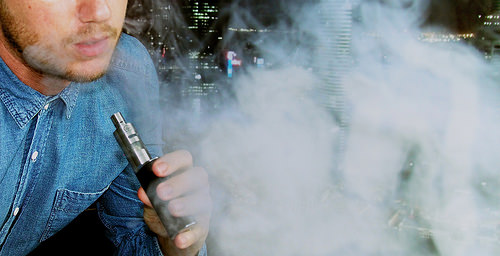 Image via Flickr by jonnwilliams
There are a few things to consider when making the final decision on which type of tank to choose. To start, you will need to understand the different tank options and what they mean to your overall vaping experience.
Cartomizer: A cartomizer is a common type of tank that will include cotton to absorb the vape juice which will then be heated by the coil as the battery is activated, producing the vapor you will inhale.
Clearomizer: A clearomizer will also use a coil to heat up the vape juice, but instead of cotton, it will have a wick that absorbs the liquid. These tanks also have a tank for the juice so that it will only have to be refilled after taking several hits.
Glassomizer: A glassomizer is exactly the same as a clearomizer except for the fact that the reservoir holding the vape juice is made out of pyrex glass instead of plastic. These tanks last longer as the glass does not erode over time.
Opting for Pre-Built or Custom Coil Builds
Another decision you will have to make when deciding on the best tank is whether or not you want a tank with pre-built coils or custom build coils. Most major vaporizer brands will offer pre-built coils designed to fit with their model tanks. With these coils, all you will need to do to replace one is unscrew the old one, remove it, and screw in a new one. Many advanced users prefer to be able to customize their coils which require a tank with a suitable deck. When deciding which type of coil to choose you will want to consider:
Resistance: A vape tank will accept coils that have varying resistance level. When the resistance is lower, you will have more vapor, and higher will provide for a more contained experience. Sub-ohm vapors typically prefer lower resistance, while those who vape at high wattages typically will choose a high resistance.
Airflow: You will also want to consider airflow when choosing your tank. The amount of airflow that the tank allows for can create completely different vaping experiences. Limited airflow is much more similar to smoking, while smoother, longer hits can be drawn when you maximize your airflow.
Mouth-to-Lung Vape Tanks
A mouth-to-lung vape tank is a tank that contains atomizer coils that are over 1.0 ohms in resistance. These are often considered one of the best type of vape tanks for beginners. They work best with 50/50 or 70/30 PG/VG vape juice and allow you to draw the vapor into your mouth with each inhale, similar to the way a cigarette works.
You will not experience the same amount of vapor as you would with a sub-ohm tank, but you will get a stronger throat hit due to the increase in PG vape juice with higher nicotine concentration.
Vape Tanks for Clouds
If achieving the best vapor clouds is one of the goals of your vaping experience, vape tanks like the TFV12 Cloud Beast King Tank by SMOKTech will give you the desired results. The tank is designed with large coils with varying levels of customization and large vape juice ports. This helps to produce better airflow, allowing better flow through the heart of the coil. These types of tanks can easily attach to your favorite mods and are known to produce smooth airflow and large vapor clouds.
The SMOK TFV12 Cloud Beast King is one of the most powerful tanks produced by SMOKTech and combines a superior flavor output with a high-wattage potential. The kit comes with a duodenary coil head that is preinstalled, as well as two 0.5 ohms V12-X4 Quad coil head. You can fire these coils at a variety of wattage ranges from as low as 60W to as high as 350W, allowing you to truly customize your vaping experience.
Once you have passed the 300W mark, you will be able to maximize your vapor and create the clouds that you have always wanted. With a top-fill cap that has an easy slide function, you can refill your device with ease. The tank is well constructed and designed to last for a long time, even with heavy wear and tear.
One thing to note with this tank is that due to the increased flavor in the vapor and the amount of vapor it emits, it is probably best to use lower nicotine doses in your vape juice options, especially if you are using your device to gradually quit smoking. Other benefits users love, include:
Adjustable airflow.
Multiple coil options.
High-quality materials.
6 ml vape juice capacity.
What Is a Sub-Ohm Tank?
Sub-ohm tanks are designed for vapers looking to produce large clouds. These atomizers will typically require much larger mods that have the capability to output higher wattage. These tanks often provide for a lot of airflow and were originally designed as a way to mimic the performance of dripping, while allowing users to still enjoy the convenience of an attached tank.
Sub-ohm tanks are made for direct-to-lung vaping and have coil heads that are pre-built. These coil heads will usually be 0.5 ohms or lower and most often use a cotton wicking. In more recent years, the manufacturers have moved to wood pulp or triple mesh wicking to improve the overall flavor of the vapes.
How Do Sub-Ohm Tanks Work?
A sub-ohm tank will work the same way that a regular tank will work, except it is designed for more high-powered setups to produce better clouds. They use coil heads that attach to the base of the tank and are replaceable when they become worn. The vape juice in the tank will be absorbed by the wicking and heated by the coil to produce the needed vapor. As you take a drag or draw on your tank, the vape juice will be drawn toward the coil through suction.
Advantages of Using a Sub-Ohm Tank
Many vape users are drawn to sub-ohm tanks for the many benefits they can provide. Some of the most sought-after benefits of using a sub-ohm tank include:
Their convenience.
Their expansive airflow.
The big clouds they produce.
The intense flavor that they deliver, including different notes not detectable with other devices.
Their use with high-wattage devices.
Their compatibility with high-VG vape juice which can be thicker.
The ability to experiment with different coil types.
Choosing the Best Sub-Ohm Tank for Your Vaping Experience
There are literally hundreds and hundreds of sub-ohm tanks out there with a wide range of functions and capabilities. With so many options available, it can make choosing the right one for you all the more difficult. Before choosing your sub-ohm tank, take into consideration the following things.
How much vape juice will the tank hold? If you don't like to constantly refill, you will want one with a larger tank capacity.
What type of filling method do they require? If you are ok with having to refill often, you might want to consider one that is easier to refill quickly.
What type of material is the wicking made out of? If you are looking to maximize flavor, you might want to consider more modern wicking materials, such as a mesh.
Best Sub-Ohm Tanks
While there are many sub-ohm tanks on the market to choose from, some of the options that can provide you with the best vaping experience, include:
Aspire Cleito: The Aspire Cleito is one of the most popular sub-ohm vape tanks with a maximum juice capacity of 3.5 ml and an easy slide open top-fill system. The tank also includes a triple slotted bottom airflow design to produce smooth clouds. It also comes with an adjustable airflow to allow you to customize your vape. The tank is known for its broad profile and for delivering a rush of intense flavor.
Freemax Mesh Pro: The Freemax Mesh Pro is known to be one of the bigger sub-ohm tanks at 28 mm wide. It can hold up to 6 ml of vape juice in the bubble tank and has an easy to push open top-fill. You can choose from four new available coils that are all equipped with multi-mesh to increase performance, as well as an SS316L coil to control the temperature of your vapes.
Best Vape Tanks
Now that you may have an idea of what type of tank to choose to meet the specific needs of your vaping experience, it still may be hard to narrow your choices down. If you are looking for a few suggestions to start your search, some of the best vape tanks on the market today include the:
Aspire Nautilus X Tank: The Nautilus X Tank created by Aspire is one of the newest tanks in the Aspire lineup and one of the best-selling tanks worldwide. The tank functions great with low power, but also has the ability to work well with high wattage devices. It can hold 2 ml of vape juice and has a durable stainless steel and glass body construction. It also features adjustable airflow and a U-tech coil design which provides for enhanced flavor and warmth.
SMOK TFV12 Prince Cloud Beast: An update to one of the most popular sub-ohm tanks in the SMOK lineup, the SMOK TFV12 Prince Cloud Beast is known as one of the most capable sub-ohm tanks that have ever been released. The V12 Prince-T10 Decuple Coil Head has a maximize wattage range of 120W which provides users with an amazing flavor profile with each drag. The tank measures 25 mm at the base and 28 mm at its widest point and has a standard capacity to hold up to 5 ml of vape juice.
Finding the right tank to provide for your desired vaping experience is just one of the steps to fully integrate yourself into the world of vaping. With so many options on the market, it can make it difficult to make a decision. But with so many options come endless possibilities for creating a device that can meet and exceed all of your vaping needs.
Like what you just read? Consider clicking one of the affiliate links in this post or using the Vape Deals page on the site to make your next purchase. You get the chance to buy products (at a discount) from great companies, and we get a small commission when you use these links — which helps keep the lights on and pay for more great content. It's a win-win!