Vape mods are advanced vaping devices designed for customers who want more control. If you're over the simplified vaping experience that's available with a vape pen or cig-a-like, a vape mod could be just the thing for you. You will find tons of mods on the market, making it difficult for even the most experienced vaper to navigate the options. This guide will give you a detailed rundown of some of the top mods so you can enjoy vaping in style.
Are Mods the Best Vapes?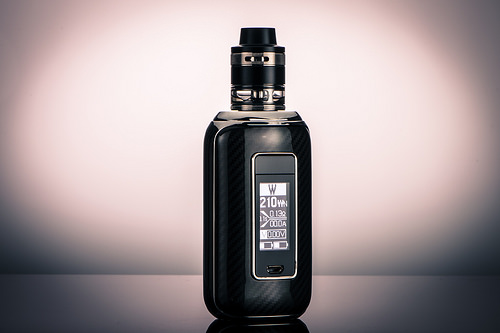 Image via Flickr by Vaping360
When you first start vaping, you'll typically use a vape pen or electronic cigarette. These devices are slim, sleek, and easy to use. A traditional e-cigarette either uses a disposable cartridge filled with vape juice or is disposable itself. These options don't include customization features and provide a fairly standard experience from one product to the next.
If you're new to vaping, you probably don't need to worry too much about vape mods yet. These devices offer a more personalized and powerful experience that caters to experienced vapers who are looking for something more. Use the cheap cig-a-likes to find out how you feel about vaping, and save your cash to use on souped-up vape mods only once you really know what you want.
As a new vaper, you'll have plenty to experiment with even with a traditional vape pen. Do you prefer a PG or VG base? What level of nicotine is right for you? What types of flavors do you enjoy? Are you looking for a hard throat hit? Do you prefer thick vape clouds?
If you know the answers to these questions, you're likely ready to move on to a more advanced vaping experience, which is where vape mods come in. This guide will help you get to know some of the best mods on the market, as well as the essential details you should look for when seeking out the right one.
What Are the Best Vape Mods for Clouds?
Are you after thick, heavy clouds when you vape? You won't get the heaviness that you want with most traditional vape pens, but a vape mod may do the trick. Look for products with a lot of watts, which allows them to turn your liquid into a vapor quickly enough for you to get a massive cloud. For the best results, choose a juice with a lot of VG in it. A high VG to PG ratios is key to producing the best clouds with these vape mods.
SMOK Alien
The SMOK Alien is one of the best vape mods for producing thick clouds. This beast delivers 220W of power and adjustable ohms so you can easily adjust your experience. You can get the SMOK Alien Starter Kit complete with the TFV8 Baby Beast Tank to deliver a rich, flavorful vaping experience. This mod features a premium zinc alloy construction and supports titanium, Ni200 nickel, and stainless steel heating elements. The detailed OLED display gives you all the information you need to adjust your vaping to perfection.
Sigelei Fuchai GLO 230W Box Mod
With an output of 230W, you know you're going to get some stellar clouds with the Sigelei Fuchai GLO 230W Box Mod. Enjoy optimum efficiency as you transform your favorite vape juice into rich clouds using this slick device. The boxy design features aluminum alloy and zinc alloy. Its modern and elegant look makes this mod an eye-catching accessory for any vaper. This mod also has the benefit of durability, making it a great accessory for users who like to take their vape anywhere.
SMOK G Priv 2 230W TC
A compact design and high-tech functionality come together in the SMOK G Priv 2 230W TC. This mod features a 2-inch touchscreen display that lets you take full control of your vaping experience. You'll enjoy a chipset that delivers up to 230W of output, which is great for clouds. This device also has a preheat option, so you can get your mod ready to deliver right when you want to vape.
The output settings let you choose hard, soft, or normal vaping. You'll also get adjustable TCR and initial resistance. Strong enough to stand up to any lifestyle, this durable pick can offer the ideal vape for nearly any user.
What Are the Best Vape Mods for Flavor?
If you're more interested in the flavor of your vaping experience, you'll want a mod that lets you customize each hit. These products offer the necessary adjustments to get the right experience every time. Keeping in mind that all vape juices are different, these mods focus on personalization features that let you tweak to your heart's content.
Vapecige VTBox DNA250C 200W
Built with a DNA chipset, this durable box mod is considered one of the most advanced picks on the market. The sophisticated technology delivers 97-percent power efficiency and offers a maximum output of 200W to efficiently vaporize your vape juice while delivering outstanding flavor. This mod is designed for precision control, so you can get the flavor experience that's right for you.
Pair the Vapecige VTBox DNA250C with the Escribe application, and you can adjust the temperature controls, coil combinations, and more. When you finally get your vape just right, you can save the experience and use the Replay feature to recreate that feeling again and again.
Asvape Michael VO200 TC
Undeniably attractive, the Asvape Michael VO200 TC box mod features stunning graphics printed on the case with satin gold accents to set off this eye-catching feature. This mod is so pretty, you may expect it to be all looks, but the product delivers on performance, as well.
Powered by two 18650 batteries with a full suite of temperature controls, this mod is made for flavor. The 200W output provides the optimal vaping experience, so you'll get a vape that tastes as good as it looks — and with this mod, it looks GOOD.
SX Mini Q Class 200W TC Mod
Flavor control fits in the palm of your hand with the SX Mini Q Class 200W TC Mod. This device is equipped with the intelligent taste control system SX-Q+. This allows ample customization from this powerful system. Equipped with a duodenary coil, 200 watts, and five distinct power modes, this mod is made to deliver.
This product is outstanding for clouds, as well. When you can't decide whether you want to prioritize the taste or the feel, use this device and do both.
What Are the Best Vape Mod Starter Kits?
New to the world of vape mods? You can get going with a starter kit that features nearly everything you'll need for your new mod. These kits are so handy, in fact, that even experienced vapers may want to grab one when switching to a new type of mod.
Keep in mind that many of these mods still don't come with the required battery. Read the manufacturer's details closely so you'll know what you may still need to purchase and can start vaping right out the box.
Ultra 24K Mechanical 20700 Kit
This kit from iJoy is the perfect pick for a vaper who is purchasing his or her first mod. You'll get everything you need to start out, including the mechanical mod, iJoy 20700 battery, ULTRA COILS velocity style deck, and a bag of iJoy extras. The mod itself features a compact tube design, contained in 24-karat gold-plated stainless steel housing. The magnetic sleeve firing system is unique to this design, giving you plenty of power in a small package.
One of the best features of the Ultra 24K Mechanical 20700 Kit is its price. Coming in at around $70, this is one of the lower-priced options on the market. It makes for a great starter steal when you're still figuring out all your mod preferences.
SMOK Mag Grip 100W TC and TFV8 Baby V2 Starter Kit
Wrap your fingers around the comfortable fit of the SMOK Mag Grip 100W TC and TFV8 Baby V2. You can release the ejectable battery door with the push of a button for easy access and quick battery changes. The device's adaptive battery detection will adjust based on what you put in, so you're always getting functionality that's customized to your current capabilities. The three-button interface takes care of your other customization needs.
This vape mod comes with the TFV8 Baby Beast Sub-Ohm Tank. Other features in this starter kit include a SMOK TFV V2 Tank, one glass tube replacement, one 18650 battery adapter, replacement parts and glass, and a USB charging cable.
Eleaf Saurobox 220W TC Box Mod Starter Kit
This attractive box mod features a colorful resin body and sleek 0.96-inch TFT screen. You get readings for the temperature, output, voltage, wattage, dual battery life, and coil resistance. The Eleaf Saurobox 220W TC box mod offers atomizer resistance up to 3 ohms, up to eight volts of output, and between 1.3 and 220W of power. It operates with a three-button control which includes an oversized firing button for easy and intuitive use.
The starter kit comes with the box mod itself as well as an ELLO Duro Sub-Ohm Tank, HW-N 0.2 ohm coil head, HW-M 0.15 ohm coil head, QC USB cable, and spare parts bag.
What Are the Best Vape Mod Brands?
If heavy research isn't your thing, it's good to know which vape companies can be trusted to produce good products across the board. When you're looking to make a quick buy, these providers are smart picks. You don't have to do much searching to find a decent mod from these lines.
Vaporesso
Vaporesso mods are regularly featured on fave lists for top mods. These products tend to have a smooth design with intuitive functionality. Some options to check out include the following:
SMOK
SMOK products tend toward bold colors and boxy designs. This brand regularly releases new products, which has made it an popular name in the vaping world. It's difficult to go wrong with one of these items:
Lost Vape
Lost Vape is good for DNA mods. These vaporizers feature a DNA20 or DNA30 chip, which are ideal for customization. If you're an experienced vaper who's looking to get the ultimate in control over your device, a DNA mod is a good choice, and Lost Vape products are among the best for these. Try these models:
How Much Do Vape Mods Cost?
Ready to invest in a vape mod? With so many stellar options outlined for you here, you're surely itching to grab one. As with most things, price is sure to be a factor. You want to spend enough to get a quality product, but you don't want your mod to break the bank.
The price range for vape mods is fairly wide. You can get a starter mod with minimal features for around $30. This will get you something like the IPV D3S 80W TC Mod from Pioneer4you. This mod has up to 80W and voltage of up to seven volts. As you can see, this isn't one of the most powerful picks on the market, but it's a step above a vape pen, and you can't complain about the price.
On the other end of the spectrum, you'll find some of the slickest vape mods on the market coming in around $200. Enter the SX Mini Class 200W TC Mod. This mod offers up to 200W powered by the YiHi SX450J chipset. This product lets you control temperatures in a range anywhere from 212 to 572 degrees Fahrenheit and enjoy up to 9.5 volts. Five modes offer plenty of customization.
In the middle are a broad range of mods that are around $60 to $100. This is where your product will probably fall. Because this is a crowded industry, you should always research your options when you can. This guide should give you a good starting point as you're entering the world of mods.
If you're ready to grab your first vape mod, consider one of the options on this list and get vaping.
Like what you just read? Consider clicking one of the affiliate links in this post or using the Vape Deals page on the site to make your next purchase. You get the chance to buy products (at a discount) from great companies, and we get a small commission when you use these links — which helps keep the lights on and pay for more great content. It's a win-win!