Cost of e-juice can be a constraining factor on your vaping habits, especially if you vape quite often or use premium brands. You may also be concerned about the quality and safety aspects of vape juice being sold in the market. Sometimes, you may want to try out a unique flavor that is not yet commercially available. Making your own DIY e-juice offers a solution to all of these problems! By making your own, you can customize it to your personal taste and preferences.
If you would like to try out a blend of watermelon and pineapple or tobacco and custard apple, don't worry if you can't find it out there on the market. Go ahead and get started in your "kitchen laboratory" and prepare the e-juice you've been craving. From DIY e-juice supplies to ingredients and recipes to starter kit, this e-juice guide will give you complete information on how to make your own delicious e-juice at home.
Can You Make Your Own Vape Juice?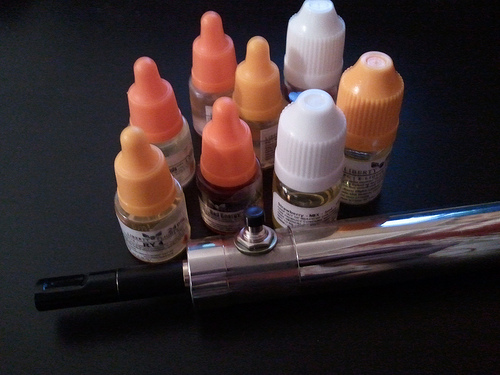 Image via Flickr by wstryder
Looking at the price, packaging, and claims made on the label of vape juice you are used to buying, it's easy to wonder whether it is really possible to make such liquid at home. The idea may sound daunting in the beginning, but as you set out, you will realize that the process is not at all that difficult.
After all, all you need to do is mix some ingredients together, which usually include a base liquid, flavor concentrates, and nicotine. And if you don't vape nicotine, you are only left with the first two (base liquid and flavor concentrates). The good thing about making DIY vape juice is that it does not require any knowledge of chemistry; it's more of like making a cocktail. You can try different ingredients, experiment with different ratios, and improve your future preparations.
If you don't wish to start from scratch, you can start from the level where you feel confident. For example, if you are only looking to customize the flavor, you can always buy the basic liquid, and add your favorite flavor to it. The DIY vape industry is always there to help and support you with supplies and recipes required for your project. The concept of DIY starter kits has made it a lot easier to make your own vape juice.
DIY E-Juice Supplies
DIY e-juice supplies can be divided into two broad categories: ingredients and equipment.
DIY E-Juice Ingredients
Following are the essential ingredients you will need to make DIY e-juice:
1. Base Liquid or PG and VG:
You will need a base liquid to dilute nicotine and flavoring concentrates. Vegetable glycerin (VG) and propylene glycol (PG) are two common base liquids used in making vape juices. You can either buy a premixed liquid that contains PG and VG in different proportions or buy each diluent separately. It's advisable to buy PG and VG separately, since that would give you more flexibility over the ratio in which you would like to have these liquids in your vape juice.
There is a slight difference in viscosity, taste, and throat feel you get from PG and VG. Usually, they are mixed in the ratio of 70-to-30, 30-to-70, or 50-to-50. You can experiment a bit before deciding on the final ratio you would like to have for your base liquid.
PG is mostly used to dilute flavor concentrates. It is widely used in food, cosmetics, and pharmaceutical industries. Unlike VG, it does not affect the taste of flavor concentrates. However, some users may develop an allergy to it or experience irritation in the throat, since it gives a stronger throat hit.
VG, on the other hand, is a bit sweeter and thicker than PG. It generates a thicker cloud and gives a smoother throat feel. Its property to alter the flavor can be good or bad based upon how you like the final taste. If you use vape juices with a higher VG ratio in a vaporizer that relies on a cotton wick, the wick may take little longer to pull the liquid.
2. Flavor Concentrates
Flavor concentrates determine the final taste of your vape juice. You can choose from thousands of individual flavors out there and combine them to create a distinct flavor of your own. As a beginner, you may also be interested in one-shots or ready-to-use pre-mixed flavors sold by various vape juice manufacturers.
Be sure to use concentrates that are specifically manufactured for inhalation instead of common food flavorings you use in the kitchen. Dilution ratio may vary depending upon the quality of concentrate and your taste, but mostly, it's within the range of five to 20 percent.
If you want, you can altogether avoid flavor concentrates, and make a neat vape juice without any flavor. Although very few users may want to go for a flavorless e-juice, making your own DIY e-juice is often the only option if you ever wish to give it a try.
3. Nicotine
Nicotine is an optional ingredient; you will need it only if you want it included in your vape juice. Nicotine is generally sold in diluted form. The strength of nicotine in the solution is measured as mg per mL. Choose the appropriate strength depending upon your preferred intake.
To begin with, you can buy a 100 mL bottle with nicotine strength of 25 mg per mL. If you would like to have a slightly stronger one, you can go for 36 mg per mL or 48 mg per mL. However, note that nicotine has its own flavor, and the final output would taste differently depending upon the strength of nicotine used.
Exercise caution while handling nicotine, especially one with high strength. Keep it away from children, and prevent it from spilling in large quantities.
DIY E-Juice Equipment
Depending upon the volume and method of mixing, you will need the following equipment:
1. Bottles
You will need bottles to store base liquids, test recipes, and final output (prepared e-juices). Squeeze bottles with pointed tops would be ideal for keeping liquid ingredients, since they make it easier to dispense stored liquid into your recipe. You can use small condiment bottles for base liquids and dark-colored glass bottles for nicotine.
Buy a few plastic bottles of about 10 mL to keep your test recipes. Bottles that are a little larger, say about 50 or 60 mL, can be used to store higher volumes of e-juice.
2. Containers
Graduated cylinders and beakers would be handy if you are making vape juice in larger quantities. Even while experimenting in smaller quantities, these containers can help prevent unintentional mixing of ingredients. For example, using the same syringe for more than one ingredient can result in the transfer of a small quantity of one ingredient into the bottle of another. Using laboratory containers instead can help prevent such cross-contamination.
3. Labels
Labels will help you mark and distinguish various materials kept in bottles. You can also write some additional notes and details on them.
4. Syringes
Syringes will be helpful in dispensing precise amounts of liquid by volume. Get some 10 mL and larger syringes to handle base liquid. You will also need a few small syringes, maybe 1 mL, for adding nicotine and flavor concentrates.
5. Gloves
Buy some disposable gloves from a nearby pharmacy. It's advisable to use them while making your vape juice. Never handle nicotine with a naked hand; it can be absorbed by the skin and can be extremely dangerous.
6. Electronic Scale
You will need an electronic scale while mixing various components by weight. One that can weigh down to 0.01 grams and up to at least 250 grams would be ideal.
DIY e-Juice Recipes
You can mix DIY e-juice ingredients either by volume or by weight. Mixing by weight is more accurate and easier, especially for making e-juices in small quantities.
While mixing by weight, you must consider the specific gravity of the ingredients. Since each ingredient will have a different weight in a given volume of liquid, you will need a vape juice calculator to determine their values.
Mixing by volume can be done using syringes and graduated containers. To the extent possible, try to keep a separate syringe for each ingredient.
The exact recipe for DIY e-juice varies with your taste and liking for specific substances. The process, however, remains, more or less, the same. Following are the essential steps in making vape juice from scratch.
1. Transfer Nicotine to the Bottle
Determine what strength of nicotine you want in your vape juice.
Calculate the weight of nicotine you need for the e-juice.
Calculate the required volume of nicotine concentration.
Put on your gloves, pull the required volume of nicotine using a syringe, and transfer it to an empty bottle.
2. Add Your Flavors
Determine the amount of flavor concentrate required.
Pull out the required volume of flavor concentrate using a different syringe, and add it to nicotine concentrate.
3. Add the Base Liquid
Now it's time to add base liquid (PG and VG) to the thick mixture of nicotine and flavor concentrates. Since most of the nicotine and flavor concentrates contain PG, chances are that you will already have a sufficient amount of PG in your mixture. So, you just need to add VG.
4. Shake the Bottle
Tighten the bottle cap, and shake it well for several minutes in order to get a homogeneous solution (evenly mixed). You can also use a mixing device to achieve this objective.
5: Steep the E-Juice
Although your e-juice will be practically ready for vaping immediately after mixing the components into a homogeneous solution, it will not have developed the expected taste and flavor yet. Steeping a vape juice is analogous to aging of wine. After you are done with shaking the bottle, remove the cap and let the juice remain in it for a few days or weeks. It will help the ingredients blend together and make the flavor come alive.
DIY Starter Kit
If you would like to buy all the supplies required for your DIY e-juice project in a single bundle, you may be interested in a DIY starter kit. Most kits include all the essential ingredients and equipment you need to make your own vape juice at home.
In addition to all-in-one kits, smaller kits are also available to help you get started at different levels. These kits are designed to meet some specific needs of the DIY e-liquid process. For example, you can buy a base liquid kit and save yourself from the hassles of mixing VG and PG to create a base liquid yourself. Similarly, you can go for a flavor kit that may contain a variety of flavor extracts or a lab kit containing essential equipment like graduated cylinders, beakers, syringes, bottles, gloves, and electric mixer.
E-Juice Calculators
Whether you decide to mix by volume or by weight, you may need the help of an e-juice calculator at some point of the process. An online calculator makes your job easier by providing all the information you need to get the expected results. For example, determining the amount of nicotine required to get your desired strength or the amount of ingredients required to make a 30/70 vape juice may sound challenging, but e-juice calculators can throw the figures before you in a matter of seconds.
There are basically two types of e-juice calculators: Web-based calculators and downloadable calculators. Web-based calculators can be accessed and used online, while downloadable calculators must be downloaded on your mobile or desktop in the form of an app.
E-Liquid Calculator – Vape Tool is an example of a downloadable calculator. This mobile calculator for Android devices can help you make calculations for mixing eight different flavors by volume (mL and drops) or weight (grams). All you need to do is choose your unit of measurement and fill in the required information, such as base nicotine, target nicotine, target e-liquid quantity, water percentage, and flavor percentage. Like most e-juice calculators, it also lets you save and edit your recipe.
Once your e-juice is ready, taste it, and make detailed notes. It will help you make better mixes next time. Unless you are highly experienced, chances are that you will not achieve that perfect flavor in the first attempt. Have fun, and keep experimenting until you create your favorite new e-juice!
Like what you just read? Consider clicking one of the affiliate links in this post or using the Vape Deals page on the site to make your next purchase. You get the chance to buy products (at a discount) from great companies, and we get a small commission when you use these links — which helps keep the lights on and pay for more great content. It's a win-win!