Pairing food and drink is a long-standing tradition. When you think of classic pairings, what springs to mind? Wine and cheese? Coffee and donuts? Milk and cookies? What about grape-flavored vapor with your Cobb salad? As vaping has exploded in popularity worldwide, vapers have discovered that their vape juice flavors can enhance their dining and drinking experiences greatly. The combination of enjoying a vaporizer while sipping on your favorite beverage or eating a nice meal taps into all the senses. You have the taste, smell, visual allure, and even mouthfeel of the vapor.
The possible flavor pairings are nearly infinite, and that's why it's important to understand what pairs well before mixing and matching e-juice flavors at random. Because while pairings can enhance your vaping experience, a poorly chosen flavor mix can ruin a meal or a cocktail. This guide will point you down the right vape pairing path, whether you're eating breakfast or throwing back a cold brew.
What Pairs Well With Vaping?
Vape juice is made of water, a degree of nicotine (although some have none), a propylene glycol or vegetable glycerin base, and artificial or natural flavorings. Manufacturers add the desired flavorings to the base and then allow it to "steep" for several days to really bring out the richness of flavors. The result is a sweet, smoky, or savory flavor profile. Flavor pairings typically fall into one of four categories:
Food.
Desserts.
Nonalcoholic drinks.
Alcoholic drinks.
When determining what vape flavors to enjoy with food or drink, vapers have taken a page from what pairs well in traditional flavor combinations. For instance, if you know apple tastes good with cinnamon, chances are, apple-flavored vape juice will complement that cinnamon roll you're eating.
Pairing Vape Juice With Food and Drink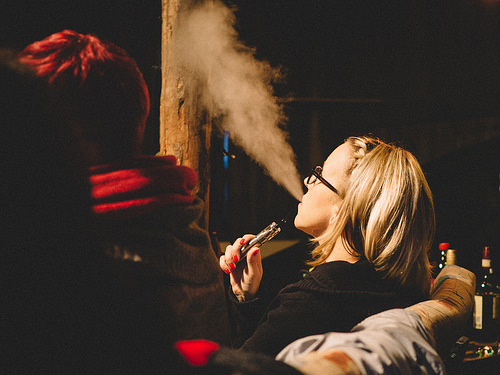 Image via Flickr by tinto
You know how some smokers enjoy a cigarette with their coffee or a cigar with their wine? The same goes for people who have switched to vaping as a means to quit smoking or as a healthier substitute. But rather than dulling your tastebuds (as smoking does), vaping provides a taste explosion. You can build on the complexity of that flavor by pairing it with your favorite food or drink.
The vast number of possible medleys means vape juice pairing has become a common pastime among sophisticated vapers. People have experimented with a variety of flavors to determine what goes best with which cut of meat, type of dessert, or style of craft beer. We've included some of the best tried-and-true combos below.
Vape Pairings With Food
While most restaurants don't allow you to vape and dine, you're free to enjoy an e-cigarette while eating dinner at home, with fellow vaping friends, or at a vape cafe or lounge. Discover a new way to savor your favorite dishes with these pairings.
Wine Flavors With Cheese
Wine aficionados can find vape juice in a variety of related flavors, from merlot to moscato to Champagne. And we already know wine pairs fabulously with cheese. So try a sangria flavor the next time you make brie. You certainly won't have to worry about a hangover the next day.
Fruit Flavors With Proteins
Fruit is one of the most common vape juice flavor classes. With tons of fruity flavors to choose from, you can find one to pair with any meat, from steak to chicken to seafood.
With red meat, stick to a jammier fruit flavor, such as blueberry or blackberry. A particularly rich cut of meat, however, can handle a more tangy fruit, such as orange. Banana, mango, coconut, and other tropical fruits complement chicken dishes. Tropical flavors (particularly coconut) also pair well with seafood, like scallops, shrimp, salmon, snapper, sea bass, crab, and lobster. Fruit flavors such as pear and lemon also balance out seafood's briny flavors.
Fruit Flavors With Salad
Fruity vape juices, such as grape, apple, and apricot, pair just as well with salads and other fresh produce as they do meats. Enjoy them with any type of green salad or even a fruit salad, if you're having a light bite to eat.
Coffee Flavors With Breakfast
Obviously, a nice cup of joe pairs well with nearly any breakfast dish. However, coffee or espresso-flavored vape juice complements pastries like croissants best. You might try a chocolate or mocha flavor for something sweeter.
Spirit Flavors With Meat
Many vapers enjoy the hearty pairing of distilled spirit flavors like bourbon or whiskey with seasoned red meat. Or try something with a hint of sweetness with your steak, such as almond-flavored amaretto vape juice.
Coffee, Vanilla, and Chocolate Flavors With Dessert
While vape juice in dessert flavors is a treat in and of itself, you can enhance your after-dinner experience with a flavor that pairs perfectly with that chocolate mousse or tiramisu. Coffee vape juice is a common choice to counter a sweet and sugary dessert. Or you can experiment with vanilla or chocolate, depending on what last course you've ordered.
Think of what flavors naturally pair well with the type of dessert you're eating. For instance, a crisp, minty vape juice can augment a chocolate dessert, a cup of hot cocoa, or even a quick treat like a chocolate bar or chocolate-covered espresso beans. Strawberry and other berry flavors also combine well with chocolate. Even better, you can enjoy the seductive pairing of chocolate-covered strawberries without the mess.
Vape Pairings With Beverages
Pairings don't have to be reserved for foods. Enjoy your favorite alcoholic or non-alcoholic beverage with a vape juice that enhances its natural flavor. Here are a few common combinations.
Fruit Flavors and Iced Tea
Cold-brewed iced tea infused with peaches or lemons is a southern delight. Achieve the same thing with a peach, lemon, grapefruit, raspberry, mango, or other fruity vape juice as you sip your tea on a hot afternoon. A pink lemonade flavor also makes for a refreshing pairing with tea.
Sweet Flavors With Hot Tea
Choose your favorite pastry or sweet flavor of vape juice when relaxing with a cup of hot tea. Doughnut and cake flavors are popular choices here. If teacakes are more your style, reach for fruitier varieties, such as blueberry or orange.
Mint Flavors and Tea
If you enjoy garden-fresh mint in your drink, you might reach for this vape juice before sipping on your iced or hot tea. Herbal flavors, including peppermint and spearmint, can give you a calming experience while enjoying your brew.
Fruit Flavors With White Wine
Enjoy a fine vintage with a fruity vape juice. A wine with good acidity, such as a crisp chardonnay or Burgundy, typically pairs well with fruity vapor. Try tropical-flavored vape juice with your favorite sauvignon blanc, peach with a summer rosé, or apple with a sweet riesling.
Chocolate Flavor With Red Wine
If you're more of a red wine drinker, you must try the classic pairing of chocolate and red wine. The sweet flavor of the cocoa complements big, fruity reds like syrah, cabernet sauvignon, and merlot.
Baked Goods Flavors With Coffee
Most pastry- or dessert-flavored vape juices pair well with a hot cup of coffee, but croissant e-liquid and coffee are a tremendous combination. If you're in the mood for something sweeter, start or end your day with a coffee and a chocolate- or vanilla-flavored vaporizer. If you used to be a cigarette-and-coffee-for-breakfast smoker before switching to vapor, enjoy tobacco-flavored vape juice without the guilt as you get your caffeine fix.
Vape Pairings With Beer
Smoking and alcoholic beverages have always gone hand-in-hand. Thus, so do vaping and beer. Thanks to its rich, complex flavors, beer is a particularly fascinating beverage to pair vape juice with. Due to the vast number of beer styles and varieties, however, we're going to break this combination down by beer type. Try these vape pairings with your favorite brewski, be it a light ale or a heavy stout.
Imperial Pale Ales (IPAs)
IPAs are characteristically hoppy and bitter, with a high gravity and an alcohol content ranging from 4 to 8 percent. Vape juice flavors that pair well with this style include the obvious tobacco, as well as caramel, pancake, cake or cookies, nuts, or fruits. Whatever your choice, make sure you select a flavor that will stand up against the bitterness of the IPA.
Lagers and Blondes
These crisp, clean beers are not only one of the world's most popular, but they also pair with nearly every flavor. When vaping, experiment with a sweet flavor, such as strawberry, blueberry, candy, or vanilla. Green apple pairs particularly well with this crisp beer. If you're not one for sweets, try a saltier alternative, such as a pretzel flavor.
Hefeweizens
Hefeweizens are full-bodied, low-hop wheat beers that have a yeasty taste and are often accompanied by sediment. Bartenders frequently serve many types of hefeweizens with a slice of orange or lemon, so you'll find that citrusy vape juices pair well with this beer. Milder fruit flavors, such as melon, banana, and peach, also work well (try them with sour beers to counter the acidic bite!). Hefeweizen is another variety that pairs nicely with rich tobacco-flavored e-cigarettes.
Brown Ales
These ales have a dark color but a strong sweet or nutty flavor. Naturally, nut-flavored vape juices, such as almond or praline, complement brown ales. For brown brands that are more on the bitter side, cut them with creamy dessertlike flavors like vanilla or custard. The subtle sweetness balances out the beer's robustness.
Stouts and Porters
Stouts and porters are strong, dark, malty beers. Stouts often have a chocolate or coffee flavor, while porters can be more on the bitter side. They both pair well with chocolate, mocha, coffee, and cappuccino vape juice flavors. Vanilla, cream, and hazelnut flavors accentuate coffee stouts. And, in case you haven't noticed a trend yet, these beers also go great with a traditional tobacco or cigar flavored vape juice.
Sit back and enjoy the cold brew of your choice with a vaporizer flavored to enhance your drinking and socializing experience. Just remember to drink and vape responsibly.
How to Enjoy Vape Pairings
Now that you have an idea of what vape juice flavors complement which foods and beverages, how can you best enjoy those combos? Some people have embraced this vaping culture spinoff by hosting pairing parties. Just as an oenophile might host a wine tasting, you and a handful of vaping aficionados can gather to test flavor pairings. You can share in the experience of discovering and discussing new tastes. Focus solely on food items, types of cocktails, or any combination of edibles and beverages.
One easy way to get started is to host a craft beer pairing party. Have each attendee bring a pack or two of his or her favorite brew and a collection of flavor cartridges. To avoid tainting flavors between pairings, either use multiple vape tanks or clean your tank out between uses. If you opt for the latter, rinse the tank and coils with warm water and dry them thoroughly.
Don't share e-cigarette mouthpieces directly. Rather, test different flavors in your own vaporizer and compare notes. You can even mix complementary flavors together for an even more exotic experience. Choose flavors that won't overpower each other, such as coffee and chocolate. Write down tasting notes, and if the party's a success, make it a recurring get-together.
Another way to enjoy vape pairings is at a vape lounge or café that serves food or beverages. You can test flavor combinations as you sip a glass of wine or share an appetizer with a community of like-minded individuals. After all, vaping and pairing is more fun in a social setting.
When it comes to pairing any meal, snack, or beverage with a vape juice, don't be afraid to experiment. The best combinations are often a result of personal taste and preference. With the immense number of vape flavorings out there, the possible pairings are nearly infinite. Make sure you always have a variety of flavor cartridges on hand so you can craft the perfect combo for any drinking or dining scenario.
Like what you just read? Consider clicking one of the affiliate links in this post or using the Vape Deals page on the site to make your next purchase. You get the chance to buy products (at a discount) from great companies, and we get a small commission when you use these links — which helps keep the lights on and pay for more great content. It's a win-win!