Whether you use the word "vape" as a verb or a noun, there's no denying that vaping has taken the world by storm. For smokers who have made countless efforts to stop using harmful tobacco, vape pens can provide a powerful solution to reducing harm from tobacco abuse.
Originally invented as an alternative to smoking, vaping can replicate the sensation of smoking without the countless chemicals, tar, carcinogens, and odors found in traditional cigarettes. The vape pen itself (alternatively known as an electronic cigarette, vaporizer, or vapor cigarette) typically consists of a rechargeable battery and an atomizer to house the vape juice.
Among the many substances that can be used to fill a vape pen, flavored vape juices can be added to suit your specific palette. Whether you go for county-fair flavors like cotton candy, razzleberry, and apple candy or skew more sophisticated with tastes such as bourbon vanilla, cappuccino, or strawberry cheesecake, you can explore a veritable buffet of vape juice flavors.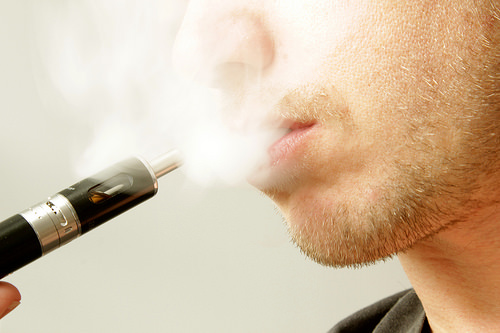 Image via Flickr by jonnwilliams
Whether you've chosen to vape to reduce your reliance on cigarettes or simply because you enjoy the relaxation from inhaling and exhaling different aromatic flavors, you'll have fun choosing a vape pen that fits with your personal style. Many vape pens are downright elegant, with sleek lines and compact form factors that easily fit in a pocket or purse. Let's explore some of the best vape pens on the market today.
Top Vape Pens
 JUUL
JUUL has experienced an incredible level of success that has practically made it a household name in the vaping world. The Juul has gained a tremendous amount of attention for its ability to encourage smokers to taper off of smoking by using this device instead of traditional nicotine in addition to its reasonable price.
The JUUL starter kit comes with everything you need to begin your vaping odyssey. In addition to the device itself, you will receive four JUUL pods pre-filled with vape juice in a variety of flavors. JUUL's delivery system of salt-based vape juice delivers a powerful nicotine dose.
Like the Aspire Breeze, the JUUL starter kit is another great option both for people who are just getting into vaping or more experienced users hankering for a functional, user-friendly, and insanely portable system. The JUUL's draw-based vaping system means that you don't have to worry about fumbling with buttons or any complicated settings, and the battery is built directly into the device.
This magical little battery is just another incredible aspect of the JUUL, accommodating around 200 pulls per charge. You can get a full charge in about an hour, so you can get back to the fun in no time. The JUUL's indicator lights let you know how much charge you have remaining with traffic light indicators. Just like when you're driving, a red light is bad news.
Mi-Pod Ultra Portable Starter Kit
Probably the least pen-shaped that we've touched on so far, the Mi-Pod by Smoking Vapor operates on a cartridge pod system. This sleek, compact little unit supports both prefilled and refillable pods so you can pull away on your favorite vape juice flavor time after time with this mess-free system.
The Mi-Pod includes a 950 mAh battery to last at least through the day, and a clever color-coded LED system lets you know exactly how much charge is left. Blue means a full battery, purple lets you know you've got about half a charge remaining, and red tells you that you're, well, in the red zone and need a USB charge stat. You can use the thoughtfully included micro USB charging cable. Those with control issues will also appreciate the clear vertical viewing window that shows exactly how much more juice is remaining.
The Mi-Pod is available in a range of cool, shimmery metallic colors and a very unique textured digital color scheme that will draw attention (but only if you want it — the 2-inch Mi-Pod is even sleek enough to slip into that tiny little fifth pocket in your favorite jeans).
Suorin Drop
With a shape unlike most other vaping devices, the Suorin Drop is an elegant, teardrop-shaped ultra-portable mod. The sleek, discrete design has a rubberized texture for grip and is available in eye-popping primary solid colors of red, yellow, and blue as well as classic black.
One of the most simple systems on the market, the Drop has only two components for easy use. The 2mL capacity cartridge is a breeze to change, making this system particularly attractive for those who enjoy changing the flavor on a regular basis. The Drop pods are designed with two separate chambers for a quick refill, and additional design considerations make the Drop leak-resistant.
The Suorin Drop can be charged in approximately 45 minutes. If you just can't wait that long, the Drop's pass-through technology enables you to vape while you're charging.
Best Vape Pens For E-Liquid
Wismec Reuleux Tinker 300W TC Box Mod
Good things come in small packages, and the Wismec Reuleux Tinker 300W TC Box Mod is a petite yet mighty vaping system. The stylish design, available in blue, white, and red puts form and function on equal footing. The Reuleux Tinker 300-watt battery will keep you going for hours, even days, on a single charge. The Reuleux Tinker also sports a full-color screen that includes a puff counter and more.
So what separates the Reuleux Tinker from some of the other top vape pens for e-liquids that are out there? Most notable is the sheer amount of vapor you'll get on your first pull. If intensity is high on your checklist, the Reuleux Tinker will not disappoint.
SMOK Vape Pen 22 Light Edition Starter Kit
We all know how disappointing it can be to kick back with a little free time to enjoy a long, pleasurable pull, only to find out that you're running on empty. Keep your vape juice supplies flowing with the SMOK Vape Pen 22 Light Edition, equipped with an impressively large 6-milliliter maximum juice capacity. The Vape Pen 22 has a 1650 mAh integrated battery with a side-mounted MicroUSB port for convenient recharging.
In addition to the larger size and capacity, fashionistas, in particular, will be drawn to the nine colorway options ranging from a subtle and elegant black to a shiny bubblegum pink. Elevate your style and your vaping pastime with a color-coordinated vape pen for the coolest look in town. We're ready for our closeup.
Small Vape Pens
VUSE Ciro E-Cigarette Starter Kit
VUSE's sleek Ciro e-cigarette is another great choice to add to your collection. This rechargeable e-cigarette lets you know when you need a charge with the help of a small LED light that will flash to get your attention. But, you won't need to make yourself crazy watching for it since the Ciro holds a charge for a nice long time.
Unlike some other e-cigarettes, the Ciro works with vape juice cartridges that reduce the possibility of spilling messy liquids when you refill. With the Ciro, you can choose your flavor of choice, twist to connect the cartridge to the battery, and melt into the relaxing rhythm of inhaling and exhaling.
Mojo Disposable Pod Device
Most of the vape pens we have reviewed are part of systems that are meant to be used again and again. But just as there is a need to use a disposable razor from time to time, a disposable vape pen has utility for travel or just as a non-committal, affordable way to try out a different vape delivery system.
Enter the Mojo Disposable Pod Device, designed to be used and then disposed of. Every Mojo is flavored differently with tastes like cool melon, lemon dessert, pineapple ice, strawberry, and peach. The Mojo accommodates 1.2mL of flavored salt nicotine vape liquid that can generate approximately 250 puffs.
Aspire Breeze AIO Kit
The learning curve for people new to vaping can feel steep at first, but products like the Aspire Breeze AIO Kit are specifically engineered for new users. The Breeze is ergonomically designed to fit comfortably in your palm. No firing button is needed, so you can just inhale and be on your way to a great feeling. That said, there is a button on the side that you can use if it feels too weird to forego the firing button action.
The relatively small 2mL tank provides an easier way to cycle through different flavors. This is a terrific feature if you are new to the game and want to try a few different tastes to familiarize yourself with the options, or if you are an established vaper who enjoys changing it up more regularly.
The Breeze is powered by a 650 mAh battery with an LED light to alert you to the battery life. Choose from a rainbow of vivid solid colors including green, red, blue, gray, and black.
Best CBD Vape Pens
Geek Vape Aegis Legend 200W TC Box Mod
For the more advanced vaper, vape mods take their cue from traditional vape pens but with a modification (hence the word "mod"). Geek Vape's Aegis Legend is one sleek and sexy vaping beast, the Italian sports car of vaping. If James Bond had only given up smoking for vaping, the Legend would have made motion picture history.
Durably constructed with dust-proof, shockproof, and waterproof protection, the Aegis Legend is beautifully crafted from military-grade die-cast aluminum alloy and liquid silicone rubber injection molding. This beauty is surrounded by an elegant, supple leather grip for maximum comfort, and a super strong carbon steel battery door. In other words, you'll have the Aegis Legend for a very, very long time.
The battery port can accept two batteries that power the device up to an impressive 200 watts. The face has an OLED output screen that provides information on output power, battery life indicator, and a puff counter.
Choose from a sophisticated color palette from with which to enjoy your nicotine or CBD vape, from black leather offset by British racing green stitching and body to a classic black body with a rich brown leather grip and contrasting stitching.
Joyetech RunAbout
The ultra-portable RunAbout all-in-one system from Joyetech is a uniquely designed vaping pen that brings sea adventures to mind with its sailboat- and surfboard-inspired design. You certainly will be floating from your first pleasurable puff.
The Runabout operates on a refillable cartridge system that can be filled with 2mL pods of your favorite nicotine salt vape juice or CBD liquid. The RunAbout is powered by a 480 mAh battery that can be charged through the micro USB port located along the side of the device.
The pod itself acts as the tip, and an LED light can be activated to glow in a rainbow of colors if desired. The device is available in a variety of cool patterns and finishes including oak texture, marble, red wood, and classic black.
Perkey LOV Pod System
Listen, we're not the type to make decisions based on looks alone, but the minute we saw the Perkey LOV Pod System that just happens to be a heart-shaped vape pen, we had to know more. We were pleased to find that, in this case, function really does follow form. Not only is this one high-performing delivery system, but it's also just downright adorable.
Using salt nicotine e-liquids or CBD in its 1.6mL tank, the LOV can be twisted into a heart shape and worn proudly around your neck with the included necklace. This simple and ultra-portable system is powered by a 360 mAh built-in battery for all day vaping. A special gift for the vaper in your life, the LOV Pod System is available in red, black, or rainbow to make anyone smile.
At first glance, the world of vaping can feel overwhelming. But once you dive just a bit deeper, you'll find the key to vaping is finding a vape pen that works for your specific needs. We have explored a variety of the best vape pens out there, from systems that are great for absolute beginners to more advanced delivery methods that are intended for people more experienced with vaping. Whatever your level of engagement, frequency, or delivery method, there is absolutely a vape pen that will work for you.
Like what you just read? Consider clicking one of the affiliate links in this post or using the Vape Deals page on the site to make your next purchase. You get the chance to buy products (at a discount) from great companies, and we get a small commission when you use these links — which helps keep the lights on and pay for more great content. It's a win-win!